Habitat for Humanity of the Greater La Crosse Region is a nonprofit organization founded on the conviction that every family should have a safe, stable, and affordable place to live.
Founded in 1992, we have built or rehabilitated over 70 homes for our neighbors in the La Crosse region.
Habitat La Crosse works in
La Crosse, Monroe, Trempealeau, and Vernon Counties in Wisconsin and Houston County in Minnesota.
In La Crosse County, the median home price rose from $139,000 in March 2013 to $258,000 in March 2023 (Wisconsin Realtors Association). That's a dramatic increase that has excluded many families from accessing the power of homeownership.
Stable housing is essential to individuals, families, communities, and local economies. A region with ample supply of safe, affordable homes will boost civic pride, attract local businesses, and support better educational achievement and health outcomes.
The need for affordable housing in the La Crosse region
In Wisconsin, only 6% of homes on the market in 2019 were entry-level. This is down from 34% in 1980. A shortage of affordable, entry-level homes cuts first-time homebuyers out of the market. It denies younger generations and historically marginalized communities the opportunity to build equity and generational wealth through homeownership.
More than two-thirds of homes in the City of La Crosse are 75 years or older, many of those are rentals. Deferred maintenance has made many of them unsafe to live in.
One in three households in the City of La Crosse spends more than 30% of their gross income on housing. Families spending more than one-third of their income on housing are more likely to have difficulty paying for food, healthcare, and other essential needs.
Partner Family
Stories
"It would mean the world to me to finally own a home that my kids can grow up in. Not a first home, but a forever home. To be able to show my children where hard work and dedication will get them is my pleasure."
Read Full Story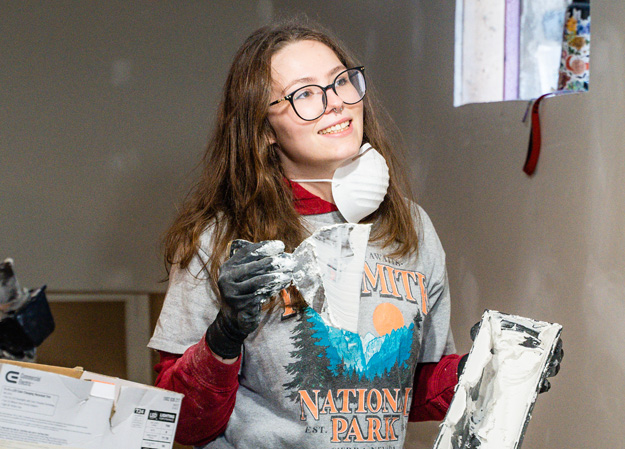 You can be part of the solution
Want to make a difference in the La Crosse region?
Support Habitat today. Every day, our staff, board, and volunteers are creating a community where everyone can access the transformational power of homeownership.

Habitat for Humanity is a world-wide organization.
What's the relationship between Habitat for Humanity of the Greater La Crosse Region and Habitat for Humanity International?
Our affiliate is a representative for Habitat for Humanity International in the La Crosse area. HFHI provides support and guidance, while we coordinate all aspects of home building for in our service area.
For more information about the Habitat's work around the world, please visit www.habitat.org.