Ask anyone who works at Habitat, and they'll tell you how hard it is to resist the temptation of the ReStore. Our offices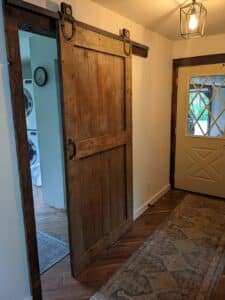 are in the same building, so we have a front row seat to the latest and greatest ReStore finds. Just got out of a long meeting? Take a stroll through housewares. Bathroom break? Let's go check out the furniture that just came in.
It's dangerous, but awesome.
Habitat Sustainability Director Amy Smith has been particularly lucky in finding items from the ReStore to use in her current home renovation projects.
Amy and her family moved into their Holmen home in late 2022. It's a great house for the family of five, but Amy had some updates in mind to really make it their own space. "Straight out of the 90's," she says. Brightly colored carpets and dated fixtures dominated the space.
Before moving in, they completely gutted the first floor and used Habitat's ReClaim program to salvage as much usable material as possible. ReClaim Supervisor Adam Oldre took doors, casing, trim, cabinets, toilets, and countertops. Then, the fun began.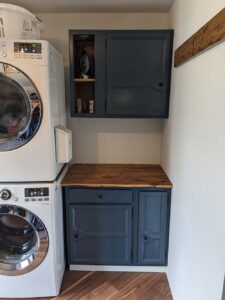 Amy created a more open space to allow for all the activity her family sees in a normal day. Most importantly, she created a large mudroom "to accommodate our 47 children and their 347 pairs of shoes." Exaggeration or not, the ReStore came in super handy to solve the family's space issues.
Spending just a little more than $200, Amy purchased enough cabinetry to create closet shelves, a built-in bench, and additional storage. Bonus, Amy scored a barn door at the ReStore that was salvaged from a barn deconstruction that our ReClaim program worked on.
Brand new, the wood, cabinetry, and trendy barn door would have easily cost a few thousand dollars.
A phenomenal employee and model ReStore shopper! Amy's creativity and shopping luck showcase the possibilities of choosing reused materials at home.
Partner Family
Stories
Darshida has been working to become a homeowner for years. She is a passionate nurse, a dedicated mother to four boys, and a longtime La Crosse resident. After years of hard work and unforeseen obstacles, Darshida and her family moved into their new home in spring 2023.
Read Full Story